With almost 300 participants in the congress and the accompanying workshops, BauZ! 2017, the 14th Vienna Congress on Sustainable Building, passed off smoothly at the Messezentrum trade-fair premises. The BauZ! congresses are held alongside the Vienna Bauen & Energie trade fair.
Participants from Denmark, Germany, Finland, India, Canada, Norway, Sweden, Spain, the U.S., the UK, and Austria discussed the implications of the Paris Agreement on the planning, building and operation of buildings. What may change due to the requirement to reach decarbonization of the world economy within one generation (31 years)?
How are we going to build in the future? This issue does not only affect new materials, manufacturing methods, novel building technology and sufficient energy standards, but also the way we cooperate. To this topic, the beginning and the closing of the congress were dedicated. By way of introduction, Matias del Campo spoke about computer-generated buildings not only in terms of biomimicry methods, but also in terms of their production via robots, offering a descriptive first glance at the opportunities and threats harbored by fully-digitized planning and building practice. Next was an overview of the advanced state of play of Building Information Modelling (BIM) in Finland which is this year's main congress partner country. Combined with GIS methods, BIM has gone beyond the individual building and is being used for groups of buildings all the way to urban planning.
The congress concluded with an entirely new definition of cooperation: Johannes Kislinger (ah3) and Stefan Graf (Leyrer + Graf) presented their considerations on the dignity of the crafts and on communication between planners and contractors beyond the limits laid down in public procurement law.
In between, the topics of planning and building were discussed in all their dimensions: site development, the building as the hub of energy supply and production, criteria for future-proof buildings, neighborhood assessment, ecological and social dimensions of free spaces, consideration of a building's life cycle, benchmarks for success, quality assurance (building monitoring), rehabilitations and prototypes.
When compared to previous congresses, the number of presentations on offer was doubled. The "Congress at Round Tables" prompted in-depth discussions in smaller circles that met with high acclaim.
The day before the congress, there was a technical visit to a Gruenderzeit attic development, to Aspern Urban Lakeside, and to the new building of the Vienna electricity and gas provider Wiener Netze in the municipal district of Simmering. A reception held on the eve of the congress in the Finnish embassy saw a first networking gathering of speakers and cooperation partners in a festive atmosphere.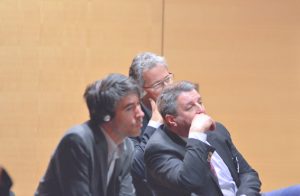 Focused attention galore in the plenary hall …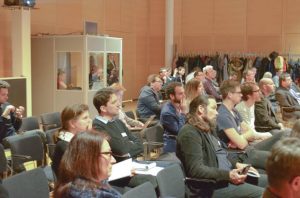 … and on the panel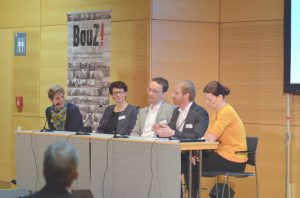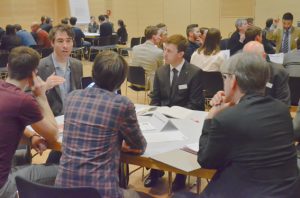 Beehive-like buzz at the (square-shaped) round tables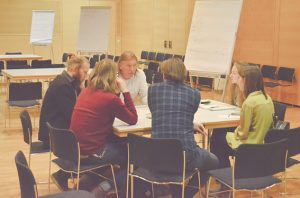 On-the-spot private conversations at the round tables while the presentations in the plenary hall are in full swing